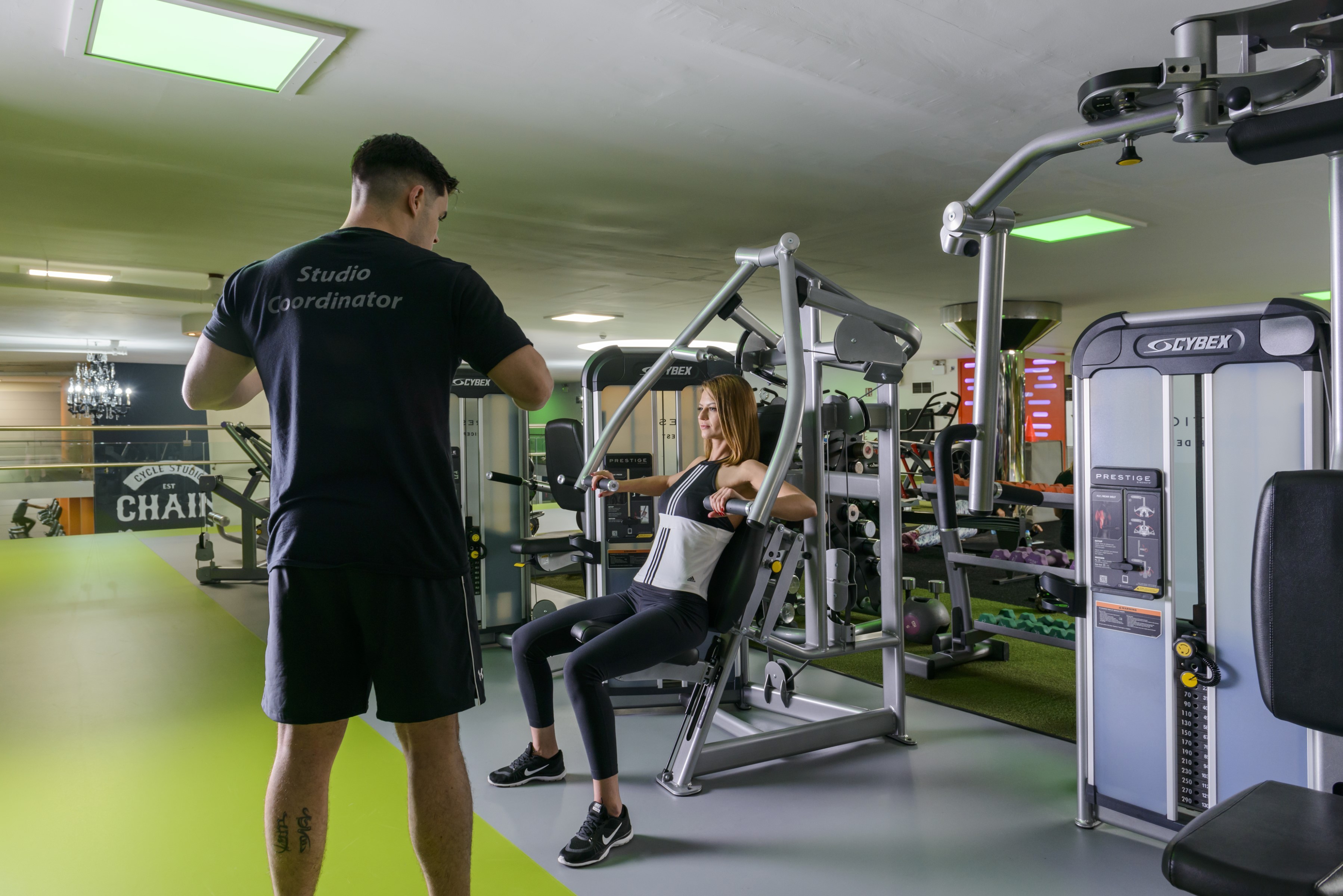 Dún Laoghaire Gym
South Dublin
Discover south Dublin's premier gym and swimming pool at Dun Laoghaire pier
Need to get back in shape? Want to lose weight? Looking to shed a few inches from your waist and hips?
Want to drop a dress size - or two?
Looking to build muscle? Want a more toned body? Or maybe you just want to be a little healthier?
Check out our gym, and personal training studios, at West Wood Club, Dun Laoghaire, in South Dublin.
The Gym with "everything you need to be slimmer, fitter, healthier and stronger"
Our gym at Dun Laoghaire, in South Dublin, is the gym for all your fitness needs. 
Weight loss, fitness, body-sculpting, muscle building - whatever you need, we have it.
Located in Dun Laoghaire, at Dun Laoghaire pier, the 25,000 sq. ft gym spans two floors - giving you a massive range of 'queue-free' gym equipment.
The gym is packed with the most up-to-date fitness and body-sculpting technology - including all the weight loss, fitness, muscle-toning, and body-shaping equipment you need to look good and feel great. 
The gym was designed, and all the gym equipment hand-picked, by top international fitness experts, to ensure you get the fitness results you want; whether you're looking to lose weight, tone your body, build muscle, or simply maintain a healthy lifestyle.
At our Dun Laoghaire gym, you also get a team of personal trainers, strength coaches, and sports scientists to train you. And they are here for YOU - dedicated and passionate about helping YOU reach your fitness goals.
And whatever fitness results you want to achieve in the gym, our fitness professionals are always on hand to provide you with the expert guidance, and on-going support, you need. 
Whether you're an international athlete, or an absolute beginner just starting out, our fitness staff have the expertise and experience to help you get the body and fitness level you want. Our trainers will work with you to build a personalised gym programme - tailored to your goals - guaranteeing you keep on track and stay motivated along the way.
Getting in shape just couldn't be easier. Simply choose the results you want - and we will get you there.
But that's not all.
In addition to the best gym equipment and the expert guidance, our Dun Laoghaire gym also offers over 200 FREE group fitness classes and programs every month with membership, including all these for free...
Yoga classes

Pilates classes

Les Mills fitness classes

Aquafit

Boxfit

Circuit training

Kettlebells

and much more. 
All your group fitness classes are led by our highly qualified and experienced group fitness trainers - who are passionate about helping YOU get the most out of YOUR sessions at the gym.
Our South Dublin gym at Dun Laoghaire pier is the ultimate destination for anyone looking to be in great shape. With the latest state-of-the-art gym equipment, expert fitness guidance, free personal training, and a friendly and welcoming atmosphere, our Dun Laoghaire gym gives you everything you need to reach your fitness goals.
Call us today to book a private tour.
Get fit. Tone up. Lose Weight. Be stronger.
Whatever fitness results you want, you will find everything you need to succeed at our Dun Laoghaire gym…
Lose weight and keep it off (from 5 pounds to 50 kilos)

Get fit and build stamina

Lose fat and slim down

Tone up and re-shape your body

Build muscle and strength

Lower blood pressure

Reduce back ache

Improve sports performance
Your NEW €6 MILLION GYM at Dun Laoghaire
As part of the €6 Million investment by West Wood Club, all gym equipment was fully replaced with the absolute best fitness, fat-loss, and body-shaping equipment from around the world.
NEW Cybex strength equipment

NEW Cybex 'fat-burning' machines

Prestige™ fast-tone equipment

NEW SPARC 'HIIT' Trainers

NEW Cybex SPARTAN Stairmasters™

Cybex Functional Training System

Massive strength training gym

Professional lifting platforms
Thee €6 Million investment also included new group exercise studios and a heated salt-water swimming pool.
Considered by many "the Gym of the Future"
In 2016, our Dun Laoghaire Gym also opened Ireland's first LesMills IMAX STYLE 'Immersive Fitness Studio'…
Forty fat-burning bikes

IMAX-STYLE cinema screen

Rock-concert sound system

Disney style animation

The best group fitness instructors

The most amazing fitness and fat-burning class ever.
Get "MORE than just a gym"
Try our Dun Laoghaire Gym today and discover everything you need to look good and feel great…
400 FREE Fitness classes every month

FREE Les Mills™ Fitness Classes

Free 6-Day Personal Training Plan

Dedicated stretch Area

Fitness by Light studio

NEW 'IMAX Style' Spinning Studio

Les Mils Experience studio

Les Mills RPM Studio

NEW Augmented Climbing wall

25 metre swimming pool

Premium locker room
Gym includes NEW muscle-building ZONE with "7,000 Kilos of weight training equipment"
In 2017, our Dun Laoghaire Gym added the new muscle building zone for men and women who want to build muscle and strength.
5,000 kilos of FREE Weights

2,000 kilos of body-shaping weights

15 'competition-grade' weight benches

6 Olympic Lifting Bars

3 Big Iron™ lifting platforms

Professional grade power racks

22 Cybex plate-loaded 'Elite Athlete' strength machines
Start getting in shape with FREE 6-DAY Personal Training Plan
To ensure you quickly get the body transformation results you want you get our 6-Day Personal Training Plan absolutely FREE Including:
One-to-one personal training

Customised gym programmes

Ongoing instruction

And most importantly as much motivation and help as you need.