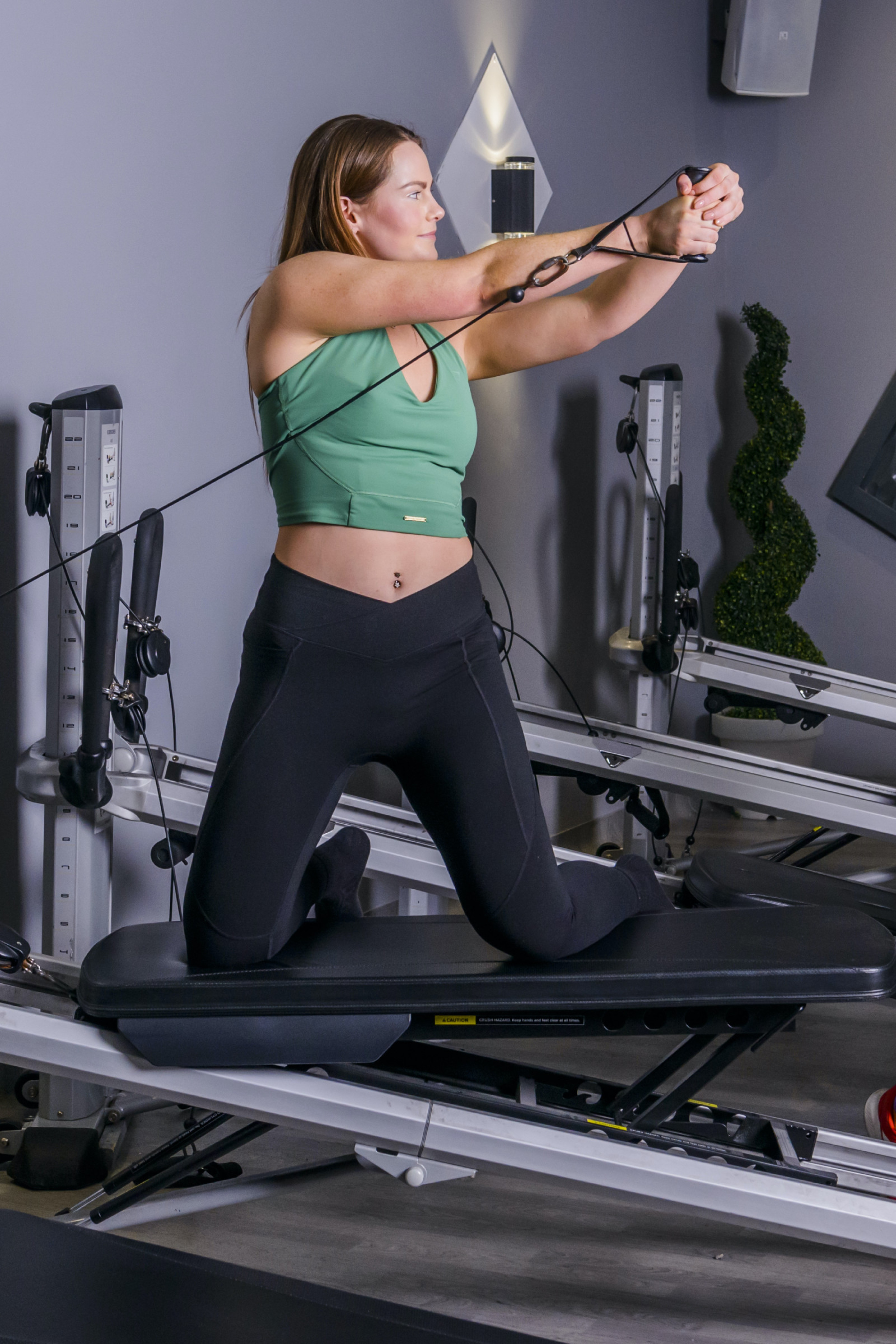 Get strong with Gravity Strength
There are many ways to get strong. At West Wood Club, when you step into our Gravity Studio, you'll be able to avail of a cutting-edge strength workout that will help you focus on shredding fat, boosting metabolism and increasing your lean muscle mass. This is Gravity Strength. Or, as the experts call it, Pilates for Strength.
Pilates for Strength
This is weight lifting without weights. Gravity strength training is a half-hour high-intensity workout on a Gravity machine. You sit, squat or lie down on a moveable board, and by attaching arm and leg straps and pull-up bars to the machine, you can work out your entire body. Gravity strength training is the future of resistance training. Gravity strength training is especially ideal for someone who is looking to build muscle mass but searching for an alternative to doing it in the weightroom.
Free Group Personal Training
You're never working alone when you're doing Gravity Strength training at West Wood Club. Our world class trainers lead these 'pilates for strength' classes and explain all exercises in detail. Many people love the individual attention that is on offer in a personal or group training environment. Gravity strength training mixes all of the intimacy of personal training with easy-to-operate machines that tone the body and build your muscle. These classes are relaxing but provide massive gains for anyone trying to build strength.
These are total body workouts, as the Gravity machines allow you to target all of the important muscle groups. Through these classes, you get builder bigger biceps and triceps, toned abs and muscular legs.
Gravity strength training is an incredible way to tone and sculpt muscle. In these classes, you're pushing your body against the force of gravity. And better yet, the machines can be adapted to suit your specific level of strength, which means no matter how strong you are, you'll find a real challenge every time you enter the studio.

Strength, muscle tone, and shape in one class
Get stronger and tone every inch of your body in this award winning strength and conditioning 'small group' personal training class.
Gravity Strength™ classes use the scientifically engineered Gravity™ equipment and your own body weight as resistance to strengthen, tone and sculpt your body from head to toe.
As you workout to motivating music, your trainer encourages you to engage all your major muscle groups. You do a multitude of strength training and core exercises to improve functional fitness – and overall body-toning.
In a small group personal training setting, every participant gets an individualised workout that will increase in intensity as your strength and performance improve.
Fast Pilates Results
Very quickly you see you body shape change as you tone, strengthen, and shape your body. Your tummy is flatter. Your waist is smaller. Your hips, things, and upper body are slimmer, tighter, and more shapely.
West Wood Club members get All classes for FREE.
Fat-Loss Facts: Burns on average 620 calories an hour