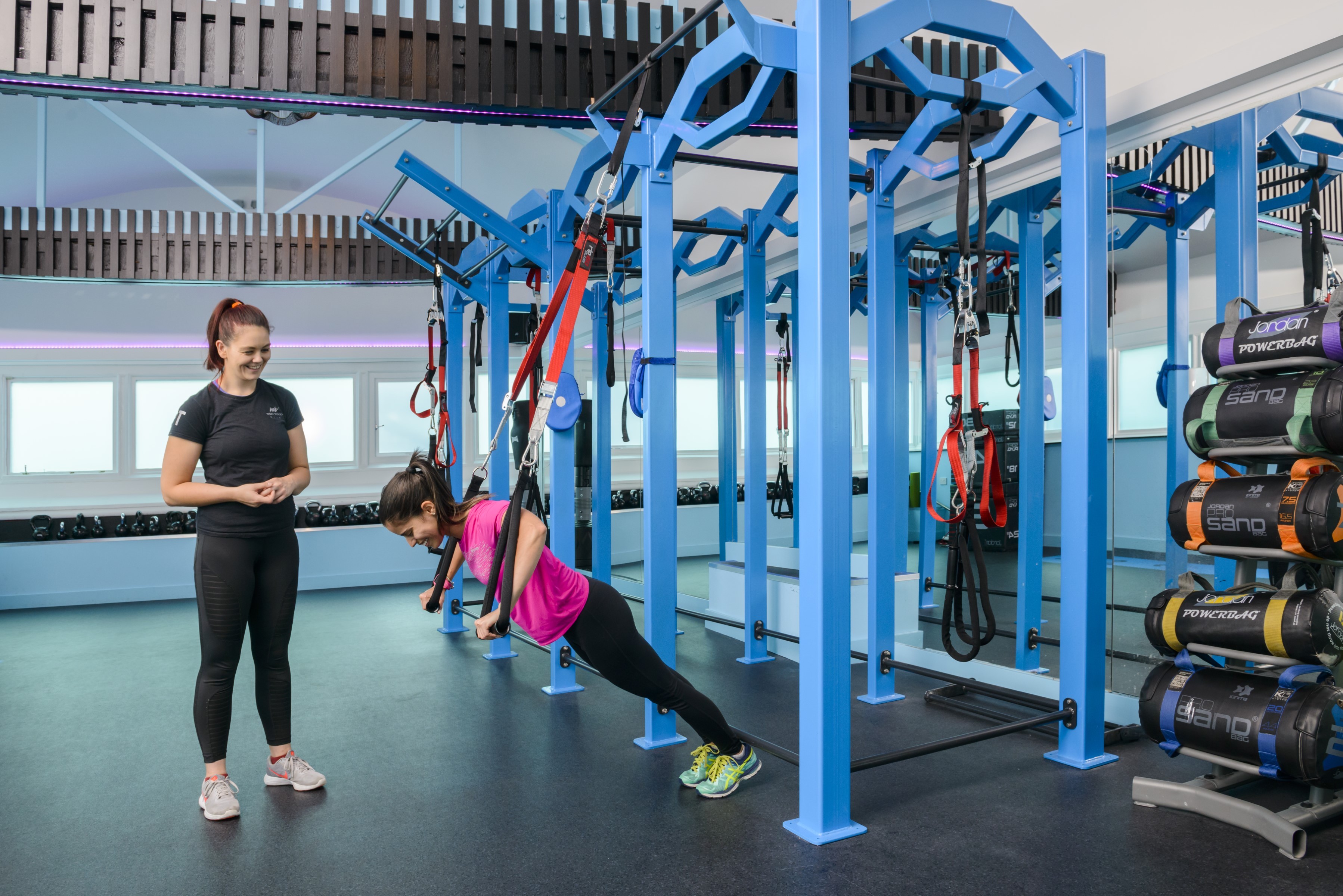 Discover one-to-one personal training
Private personal training used to be for the rich and famous. But not at West Wood Club. Why? Because we offer one-to-one personal training packages to suit every budget.
Is private personal training for you?
It depends. If you feel working out with a dedicated trainer one or twice a week will get you faster results, then maybe private personal training is for you.
If you believe you need a professional to help motivate and push you, then a personal trainer could be just what you need.
When you want the best fitness and fat loss results
Remember, the best athletes in the world in nearly every sport have full-time coaches, trainers, and sports scientists. And these coaches who work with them on regular basis. You may not want to be the best golfer, tennis player, or footballer in the world. But if getting in great shape is your number one priority, then talk to us about private one-to-one personal training.
Five facts you should know about personal training.
1. Personal trainers are nice.
Have you ever thought about a personal trainer being the shouty 'all-go-not-quit' drill sergeant on the gym floor? For most people, being mean and shouty isn't going to act as very effective motivation. And every single one of our personal trainers know that. They are trained to appreciate different types of motivation work for different types of people. And they will quickly identify which one will get you working at your best. And when you actually chat to them, they're pretty nice people too!
2. Personal trainers have unreal knowledge.
West Wood personal trainers are selected because they are at the top of their game. Not only are they qualified to a very high standard, they also have tons of extra knowledge that they will share with you whilst being your trainer. West Wood Clubs pride themselves on investing in their staff; providing their personal trainers with regular upskill sessions with the world's best trainers, so they can pass that knowledge to you and help you achieve your goals.
3. Personal trainers help you achieve your goals quicker.
People who train with a personal trainer work, on average, 20% harder than if they did a similar training session alone. That's 20% more calories burnt, or 20% more weight or reps done on the weights machines. Whatever your goal, working with a trainer will help you get to those goals quicker.
4. You don't have to be with a trainer 5 days per week.
One common misconception about personal training is that you must spend every training session with your trainer. That is an option, yes, but is it the only option? Absolutely not! In fact, most people who have a personal trainer only see their trainer once a week. They train, and then their trainer gives them exercises to do in their remaining sessions in that week to keep you driving towards your goal.
5. Personal training is not as expensive as you might think!
If we could give you the body you want now, right this very second, how much would you pay for it? Odds are the amount you're thinking of is significantly lower than the cost of a personal training session or two (or ten!). We have plenty of options to suit all budgets, from shorter 30 minute sessions to hour-long sessions; we are sure to have the right personal training plan for you.
So, what are you waiting for? Get yourself booked in for a free consultation with one of our personal trainers today!