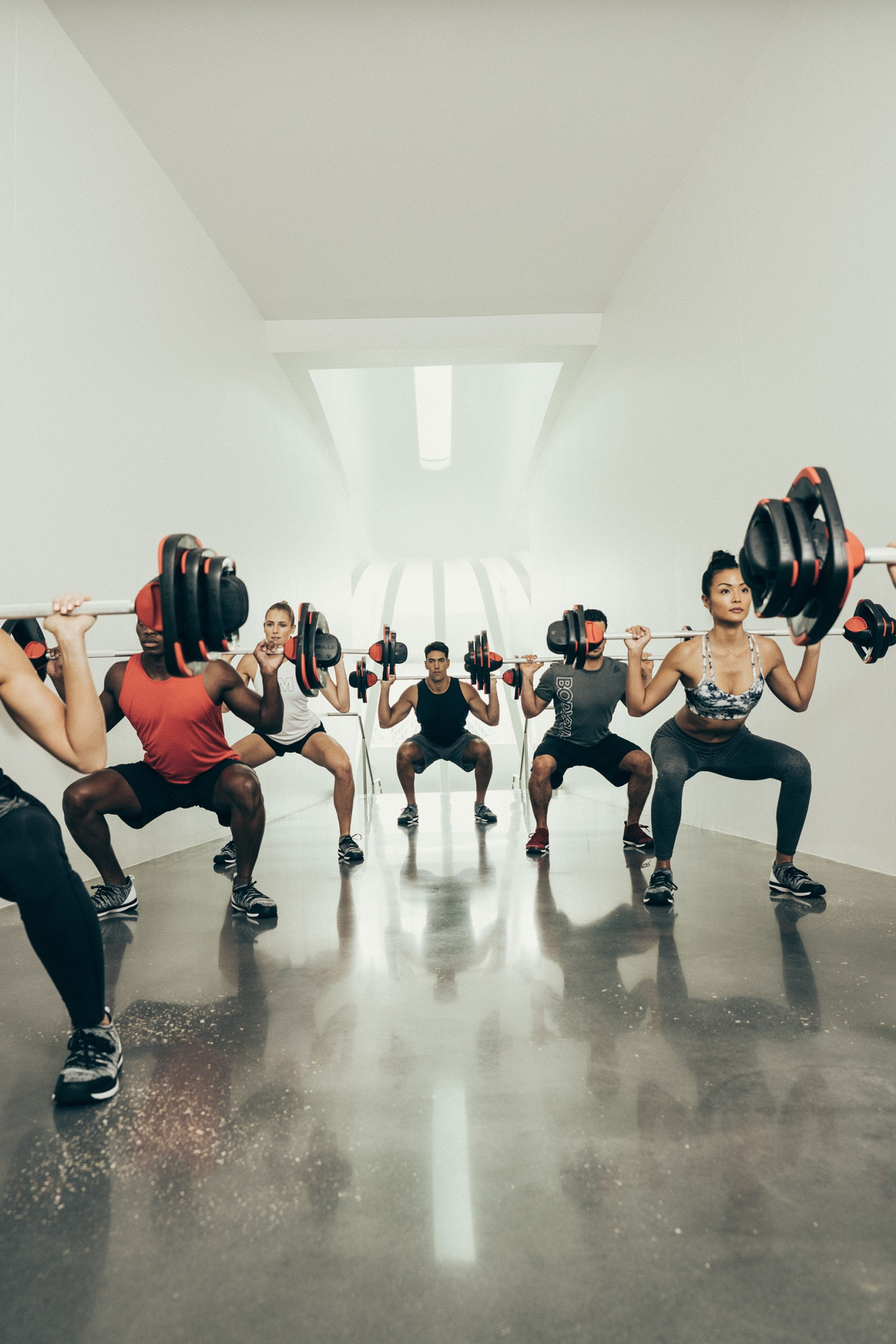 For a slimmer, fitter, and healthier body
What are Les Mills Fitness Classes?
Les Mills™ classes are pre-choreographed 'exercise-to-music' fitness classes. There are several different types of Les Mills classes, including classes for fitness, weight loss, body-shaping, flexibility, strength, power, and endurance.
And all are designed by top sports scientists to help you achieve the best possible fitness, body-shaping and fat loss results in quickest time possible.
The most popular fitness classes in the world
LesMills fitness classes are so effective, over 10 Million people now do them every week to stay in shape. Les Mills classes are now available at over 17,000 clubs worldwide, making them the most popular fitness classes on the planet. As a member of West Wood Club, you get to do all the Les Mills classes you want – for FREE.
The world's best fitness instructors
Les Mills classes are delivered by the highest-level trained instructors in the industry. In fact, Les Mills instructor training has frequently been cited as the world's highest quality fitness training courses. This means that your instructors are the best, and at West Wood Club we further invest in the ongoing training of our instructors and truly believe we have the best instructors in the country (we even have some international Master Trainers in our ranks!)
Developed by the top sports scientists
Developed by top sports scientist at the Les Mills institute, each Les mills class has been scientifically proven to quickly burn fat, boost fitness, increase strength, and tone your body. Whatever fitness results you want, attending a couple of Les Mills classes a week can ensure you succeed faster than ever before.
Confused about Les Mills Fitness Classes? Talk to us.
Confused about which Les Mils class is right for you? Just ask any of our trainers. We will sit down and go through all Les Mills classes with you. We will happily set out a schedule of Less Mills class for you. Never forget, we are here for you, and we want you to succeed. Fitness, weight loss, muscle toning? Whatever results you want, we have a Les Mills class just for you.
Your Les Mills™ classes at West Wood Club…
BODYPUMP™: A barbell workout for anyone looking to get lean, toned and fit – fast.
BODYATTACK™: A high-energy fitness class with moves that cater for total beginners to total addicts. Combining athletic movements like running, lunging and jumping with strength exercises such as push-ups and squats.
RPM™: A group indoor cycling workout where you control the intensity. It's fun, low impact and you can burn up to 675 calories a session.
SH'BAM™: A fun-loving, insanely addictive dance workout. This is an ego-free zone – no dance experience required. All you need is a playful attitude and a cheeky smile so forget being a wallflower – even if you walk in thinking you can't, you'll walk out knowing you can!
LES MILLS SPRINT™: A 30-minute High-Intensity Interval Training (HIIT) workout, using an indoor bike to achieve fast results.
THE TRIP™: A fully immersive workout experience that combines a 40-minute multi-peak cycling workout with a journey through digitally-created worlds. With its cinema-scale screen and sound system, THE TRIP takes motivation and energy output to the next level, burning serious calories.
LES MILLS TONE: This class maintains a 3 in 1 training style – a mix of cardio, resistance and core while playing with different training concepts to ensure everyone gets the best results from their workouts.
CXWORX™: Exercising muscles around the core, this class provides the vital ingredient for a stronger body. A stronger core makes you better at all things you do, from everyday life to your favourite sports – it's the glue that holds everything together.
BODYBALANCE™: Ideal for anyone and everyone, this is the yoga-based class that will improve your mind, your body and your life.
LES MILLS GRIT™: A 30-minute high-intensity interval training (HIIT) workout that improves cardiovascular fitness, increase speed and maximize calorie burn.
One thing that is common in all Les Mills classes is structure. Every class will always follow a specific plan, so you always know what to expect. E.g., a BODYPUMP™ class will always focus on:
Warmup

Squats

Chest

Back
In that order. Always. Without fail.
Another common theme is that every three months Les Mills release the freshest new music to keep it interesting and create not just a great fitness class, but a great fitness experience, and new choreography based around the latest fitness research to keep delivering the results that you come for.
With all that variety there is bound to be a class that suits your individual training style and fitness needs.
So, the next time you go into the gym, why not have a look at the group exercise timetable and try out one of our many Les Mills classes. You might be pleasantly surprised and will definitely get a great workout experience!