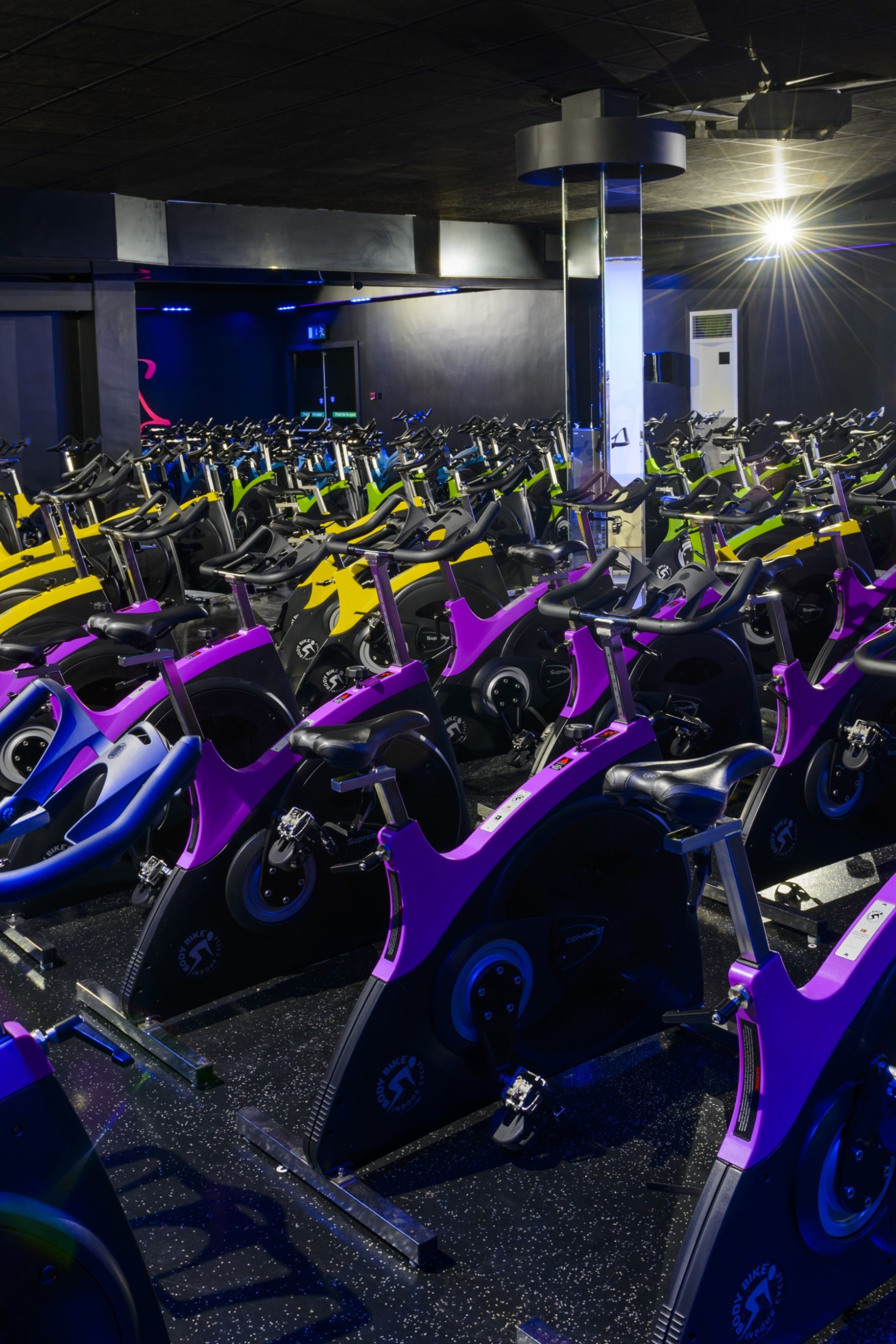 What are spinning classes?
Spinning classes or 'group cycling' is a fitness global revolution. If you've never experienced it, a proper spinning class can be one of the most amazing fitness experiences.
Just picture it: a group of motivated fitness enthusiasts pushing their bodies to the limits on stationary bicycles, riding in pulsating rhythm, sweating to inspirational music, while being guided by a knowledgeable instructor. You can almost feel the burn!
Spinning classes at West Wood Club
Few fitness centres in the world offer a spinning experience as intense and immersive as what is on offer for members of West Wood Club. If you want to make group cycling a central component of your fitness journey, or if you're looking to add a thrilling group fitness activity to your workout plan, West Wood Club is the ultimate place for you.
Spinning – a brief history
While it feels like spinning has been a fitness phenomenon since the beginning of time, it was actually formally invented in 1993 by a South African cyclist named Johnny Goldberg, who was better known as Johnny G. Goldberg's goal was to create the 'ultimate low-impact, cardiovascular experience' by designing a stationary bike that could provide all of the health benefits of a road bike. He ended up starting a fitness revolution.
At West Wood Club, we offer a suite of spinning options. Every one of our fitness centres has a customised cycling studio called an RPM Studio. While the biggest club offers classes that can cater to up to 85 people, most centres can accommodate up to around 30 people.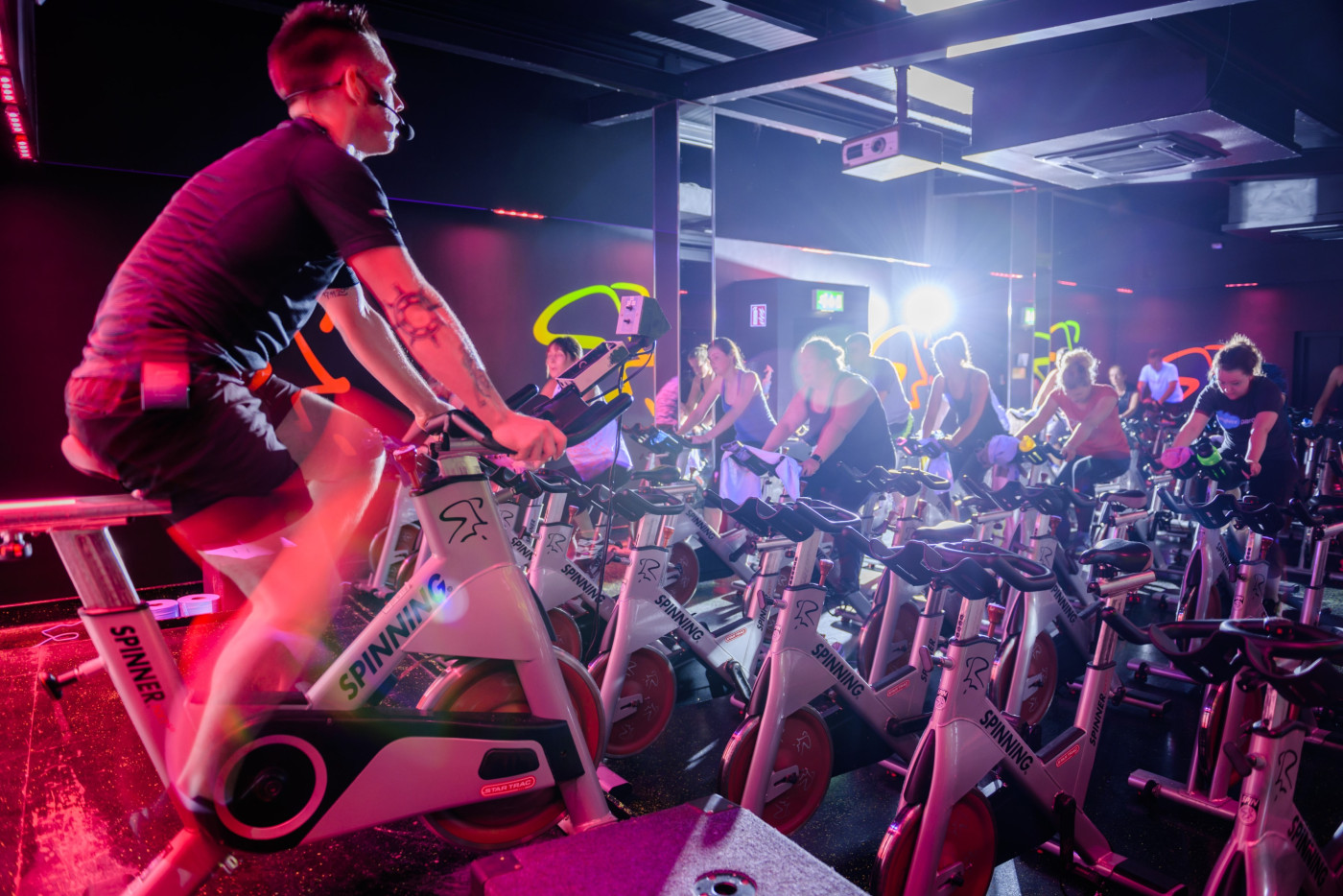 Spinning Classes at West Wood Club, Leopardstown
Burn calories like never before
We have classes that are taught by fitness instructors and virtual classes that are just as empowering as any spinning class on offer in the country. We offer as many as 13 spinning classes per day. Most of our classes are 45 minutes long, but some last thirty minutes. If weight loss is your ultimate goal at the gym, then West Wood Club offers spinning classes that help you burn up to 500 calories. You can see huge fat loss in a short amount of time.
The absolute best Spinning instructors
The joy of spinning is not simply about pushing your body to the limit on a bike. Spinning is a powerful group experience. At West Wood Club, you'll be guided by one of our motivated, expert personal trainers. A spinning class is only as good as the person leading it, and we promise you that West Wood Club features the most inspiring spinning instructors you've ever worked with.
Spinning – the benefits
Spinning offers people so many health benefits. It is first and foremost a remarkable workout for anyone pursuing general fitness, with extraordinary cardiovascular gains. You can also develop endurance aerobic fitness or enjoy HITT benefits depending on the spinning class you take.
The wide variety of West Wood Club spinning offerings means you can target specific gains depending on your interests. If you're looking to build endurance or aerobic fitness, you might want to take an RPM class. If you're after an intense HITT workout, 'Les Mills The Sprint' could be for you.
How Les Mills RPM changed Spinning
The main spinning offering at West Wood Club is called 'Les Mills RPM'. This is a musical journey through different terrains, and of course a tremendous work ]out with a huge cardio impact. You can also take our 'Les Mills Sprint', which is a HITT workout. In these classes, you use the bike as a tool and work at 85% of your maximum heart rate or more on and off throughout this gruelling 30 minute class.
The Trip Makes Spinning Classes Easy
West Wood Club also offers a truly immersive fitness experience called 'Les Mills The Trip'. You follow amazing graphics through incredible landscapes while riding to really cool music. Of course, you'll work incredibly hard but because the graphics are so beautiful, you'll get truly lost in what's going on in front of you.
West Wood Club has spent a lot of time thinking about its spinning environment. Every RPM studio has a fantastic, state of the art soundsystem. The room is dark with various kinds of light. You'll feel like you could be anywhere in the world. This all creates an environment where people want to be present and work hard together.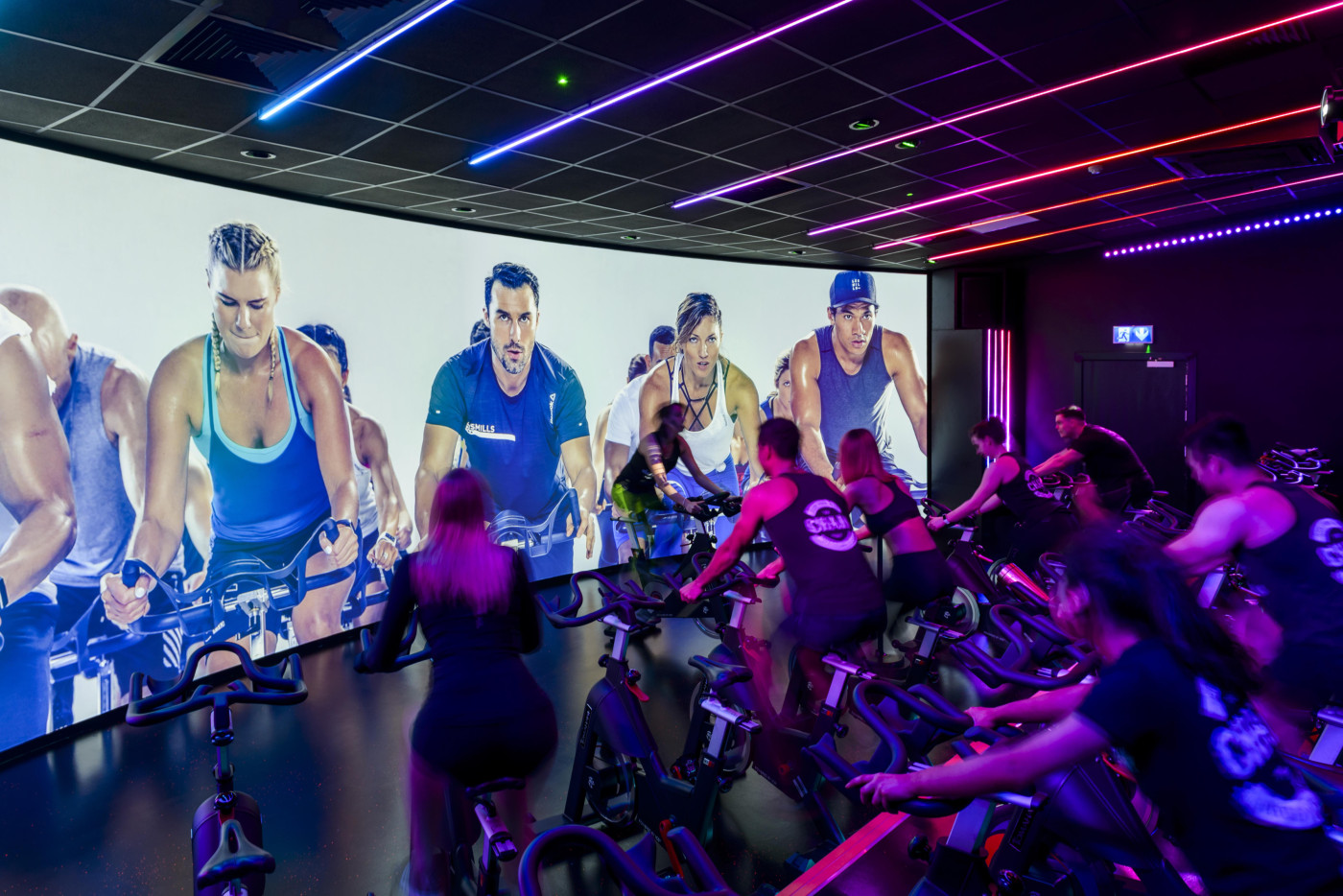 Music makes group cycling fun
Music is central to the spinning experience. At West Wood Club, much attention is invested in the music that is used. It's modern, diverse and caters to all audiences. Most importantly, it gets the heart pumping.
Whether it's a live or virtual class, spinning classes at West Wood Club are unlike any you've ever taken. Not only has West Wood Club invested in the latest technology and equipment, but their instructors are hands down the best in the business. You can't have an enjoyable spinning class without a motivated instructor guiding you every step of the way, and the spinning instructors at West Wood Club have travelled to the UK, Europe and New Zealand to teach classes.
Think of a stereotypical 'bad' spinning class. A glossy wooden floor, a poor soundsystem, broken machines. This is not what you get in a West Wood Club experience.
West Wood Club use bikes designed in Denmark called Body Bike, which are designed to feel exactly like an outdoor bike. Spinning is all about how you connect to the pedals, and West Wood Club provide top of the line equipment.
Group cycling Classes for beginners
If you're new to West Wood Club or only building your fitness, we're recommend starting with two or three spinning sessions per week, starting with the 30 minute classes. West Wood Club offer a 'smart start' programme for beginners where newcomers can do the first few tracks and build up their fitness.
Best of all, the spinning classes at West Wood Club are always evolving. The workouts change every three months, with new choreography, new variations in terrain and speeds.
Get on your bike and try spinning at West Wood Club today for FREE!