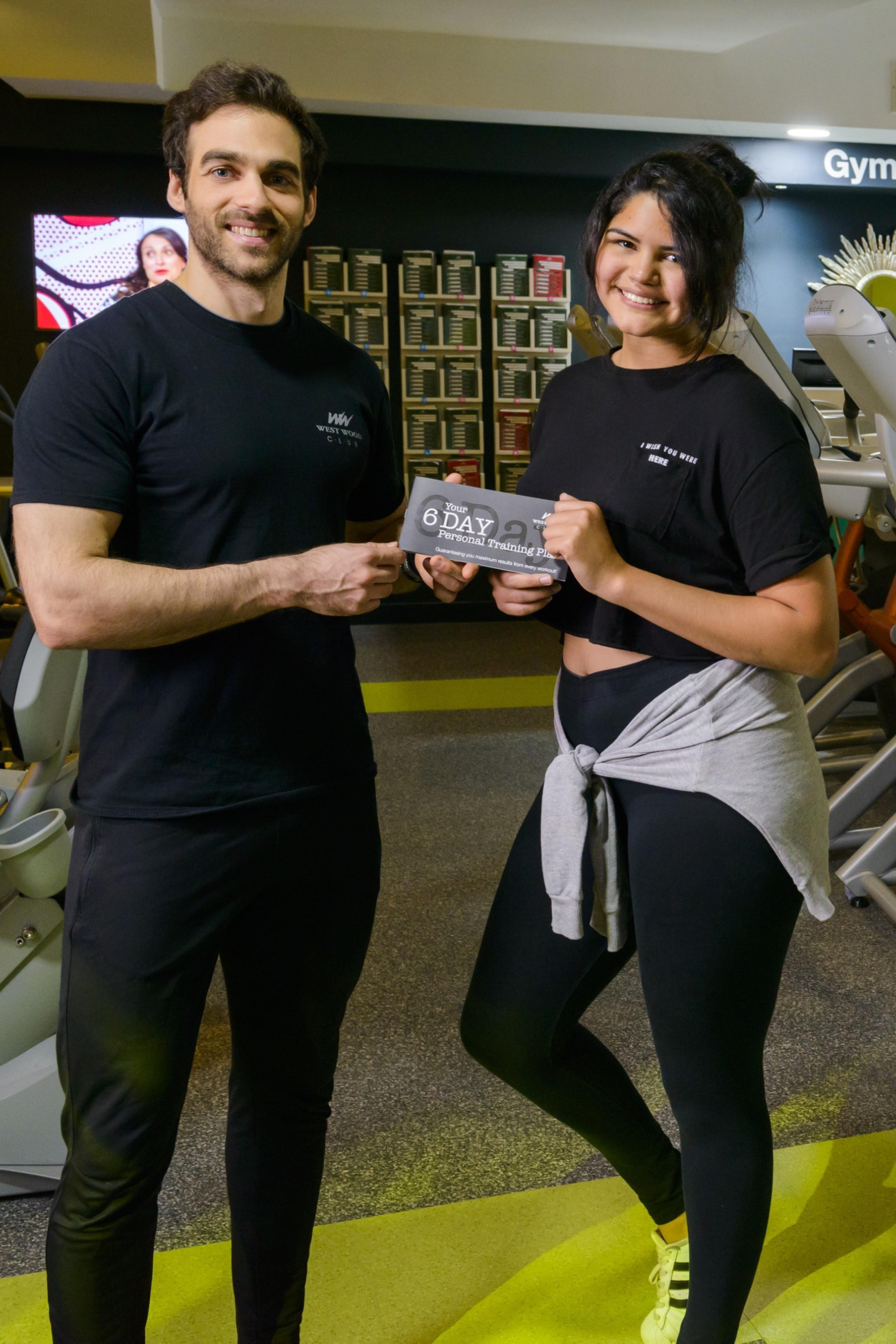 FREE Personal Training Plan
Exclusive personal training plan for all new members - 100% FREE with membership.
FREE 6-Day Personal Training Plan - to help you see the absolute best fitness results
At West Wood Clubs we are 100% committed to helping you get the best fitness, weight loss, and body-shaping results.
To ensure you get the best results you get our 6 Day Personal Training Plan for FREE. Yes, that's six days of FREE personal training.
Most importantly, this highly successful personal training plan includes everything you need to lose weight, tone-up, get fit, build muscle….and stay healthy.
Here's how it works…
Day 1: FREE Consultation & Fitness Assessment
Today you meet with your personal trainer for two very important steps to achieving maximum results in the fastest time.
Firstly, your trainer takes you through a '20-point' results questionnaire to talk about the fitness results YOU want.
Secondly, your trainer takes you through a private fitness assessment. Don't be scared – it's important to knowing where you're starting from.
Your trainer uses the information from your '20-point' results questionnaire and your fitness assessment to design the best gym programme for you.
Finally, your trainer also shows you all our facilities so you know where everything is; studios, changing facilities, swimming pools, tennis courts, squash courts, spa, cardio and weights areas.
Day 2: Gym session with your personal trainer
Today is is your first training session in the gym. Today you get your personalised fitness plan. Each part of your programme has been designed to help you achieve maximum fitness and body-shaping results.
Your trainer works with you for 30 minutes to explain everything on your fitness programme. Your trainer also ensures you are 100% confident with everything before moving on.
To guarantee you enjoy your time at West Wood Club your trainer also goes though all our group exercise classes.
Day 3: Second gym session with your personal trainer
One week after your first session, you are booked in for another personal training session to go through and explain your gym programme again.
This guarantees you fully understand how all machines and equipment work. We also answer any questions or concerns you may have about technique.
We may also need to modify your programme slightly – and may add some more exercises if we think you are ready.
Today, your trainer also provides advice on nutrition and diet, to ensure you're achieving MAXIMUM results!
Day 4: Personal training results check & review
After 10 sessions in the gym you are feeling more confident working out. It's now time for a review of your gym programme.
Today your trainer meets you to check how you're getting on with your exercise routine. Your personal trainer also adjust levels and intensity slightly according to how you're progressing. This ensures you are working at a level that ensures you achieve maximum results.
Maybe you'd like to bring a friend along for extra motivation. Ask your trainer for a complimentary 4 Day trial membership for a friend or someone in your family.
Day 5: Fitness assessment & design of new training plan
Congratulations! You are now achieving your goals. You should be losing fat, toning muscle, and dramatically increasing your fitness levels.
Today you do a second fitness assessment so we can check your progress and keep you on the right track to achieving maximum fitness and body-transformation results.
Your trainer also meets to discuss where you want to go with your training now. From this your trainer designs a completely NEW training programme for you.
Day 6 – Your NEW personal training plan
Our goal is to keep you motivated and to ensure you continue to enjoy exercise. By day 6 you are seeing and feeling the effects of your regular visits to the gym.
Because you're now fitter, stronger and slimmer, your programme is probably too easy. So today you get a NEW fitness plan from your personal trainer. And every component of your personalised plan is gone through in detail.
But that's not all you get…
NEW gym programmes every 10 weeks
To ensure you stay motivated, and to guarantee you continue to enjoy West Wood Club, you can also book to get a NEW fitness programme every 10 weeks for FREE.