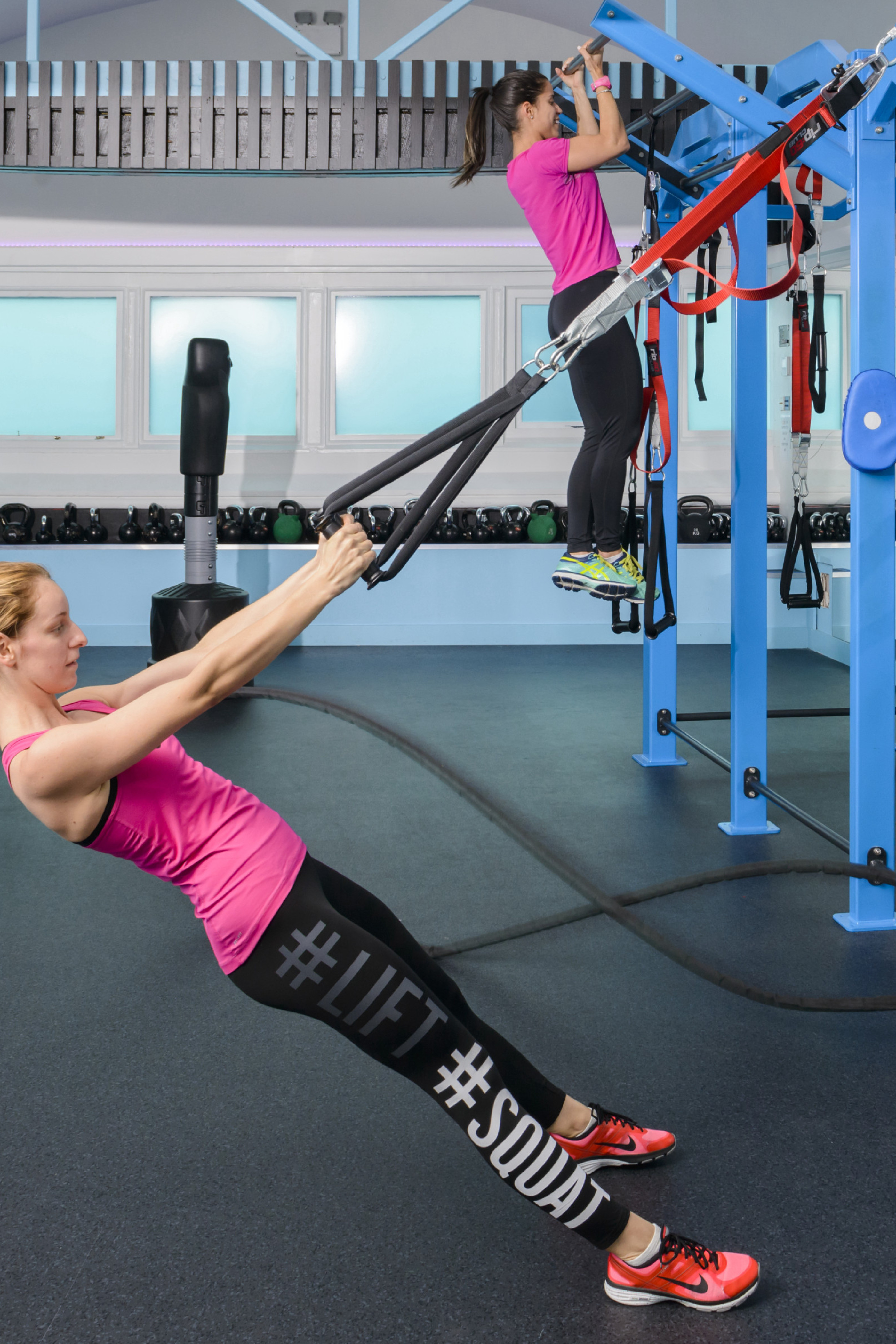 The Ultimate Body Shaper.
If you've ever spent some time in any of our gyms, you may have heard our trainers raving about 'the RIG'.
Although the RIG sounds like a minor torture device, it really isn't. The RIG is actually the most versatile and functional piece of equipment in the entire gym.
Generally found in the centre of the gym, the RIG is a large piece of gym equipment with unique fitness tools attached. These include monkey bars, dip bars, battle ropes, TRX ropes, and kettlebells all 'rigged' together (hence the name).
But the RIG isn't all about monkey bars and pull ups. Anyone, regardless of their fitness level, can use the rig to get any results they want; fitness, weight loss, body sculpting, strength.
5 fitness results you quickly get on the RIG
1. Increased cardiovascular fitness.
A large of amount of equipment in the RIG is designed to get the heart rate up and make you sweat.
Examples of this include the kettlebells and the battle ropes. Kettlebells are solid iron spherical weights with a crescent handle, and battle ropes are long pieces of thick rope which can be moved with speed to pick up the heart rate. Try them. You'll be amazed how quickly you build stamina, endurance, and energie levels.
2. Strength and power
There are plenty of things to do on the rig that will give you real increases in strength. Using the TRX on the RIG is one great example of this. TRX are adjustable ropes that will be suspended from the top of the RIG and will have handles where you can put your hands (or legs).
The American Navy Seals use these to build strength and power while at sea.
3. The body of a gymnast
You may have seen that your RIG has some gymnastic rings somewhere on it. These are not just for the super strong, but for anyone to work on gymnastic based moves. These moves include exercises to increase shoulder strength and mobility, and core strength.
Every gymnast has a solid, toned, and shapely body. Using the RIG on a regular basis will help you develop the body of a gymnast. Ask our trainers to show you how.
4. Flat, toned, and solid abs
There are so many variations of core exercises you can do on the rig, all of which will make your core strong, powerful, and solid. Examples of equipment you can use include the gymnastic rings and the TRX, both of which can provide suspension training; training where your legs are suspended off the floor to increase the challenge on your core.
5. You might even make some new friends!
At West Wood clubs, we have specialised, and regular, group exercise classes using the RIG and all the associated strength and conditioning equipment. Led by a highly qualified instructor, you'll sweat, smile, and learn some new exercises in these challenging, but enjoyable classes. You'll also be sharing this experience with other people in the class, which will make you work harder and could lead to making some more gym friends.
Discover RIG training today
The possibilities of the rig really are only limited to your imagination, there are so many things you can do on this piece of equipment. From beginners to advanced gymnasts, everybody has a place at the rig.