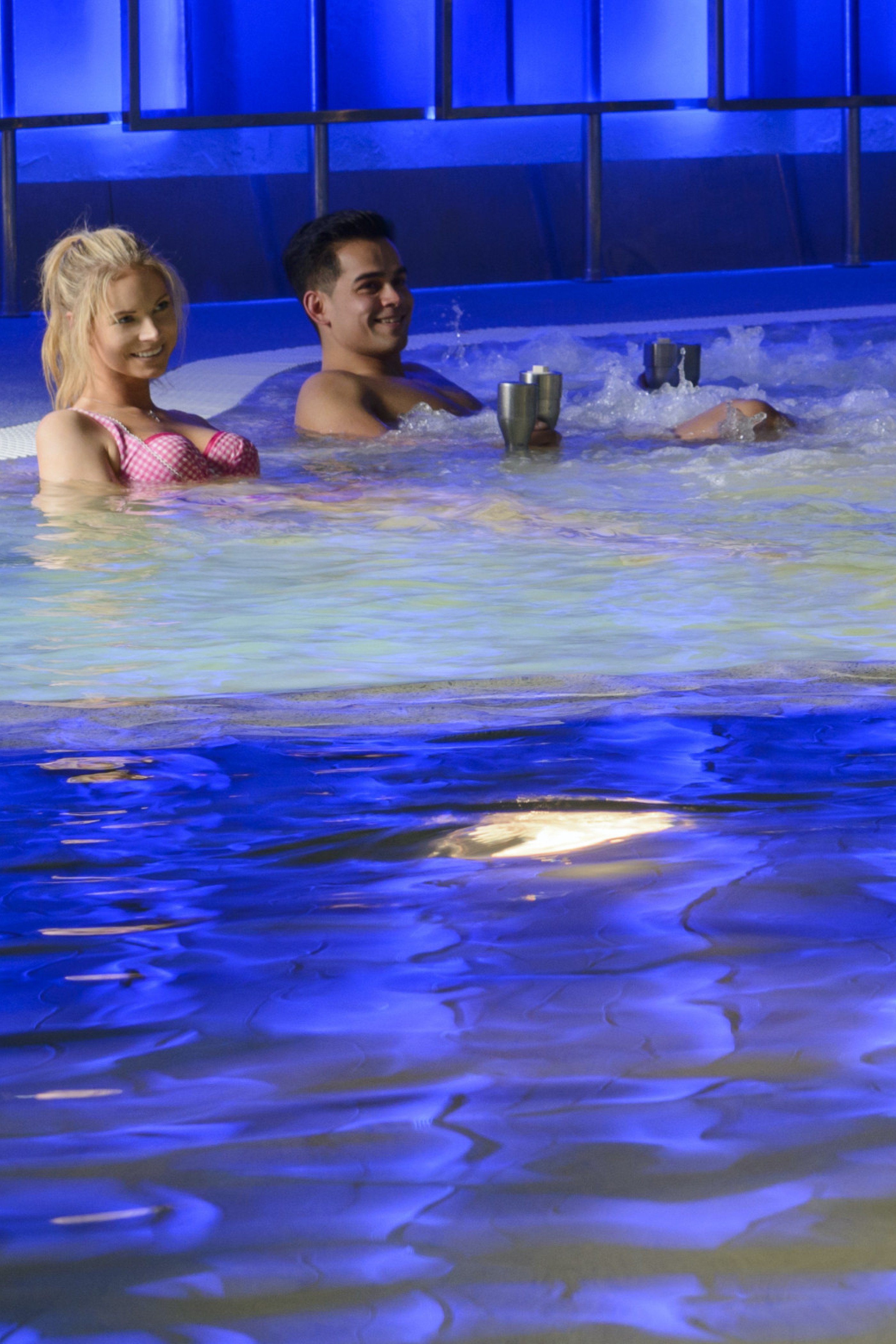 Experience Dublin's most luxurious swimming pool
Imagine swimming in a calm sea where the water temperature is a warm 34 degrees.
Now imagine relaxing in the shallow seawater where the air temperature is 36 degrees. Feel the warm saltwater on your skin.
You've just experienced swimming in our Dublin City swimming pool in Sandymount, Dublin 4.
Not like other Dublin City swimming pools
Our Sandymount swimming pool in Dublin 4 is different than normal 25-meter swimming pools in Dublin City. Our Sandymount swimming pool is a luxurious 25 metre 'thalassotherapy' pool.
Unlike normal swimming pools in Dublin, our Sandymount swimming pool does not use heavily chlorinated water. Instead, the pool is continuously filled with only natural seawater.
Members say swimming in our Dublin 4 swimming pool is like swimming in the warm seas of Hawaii, Sri Lanka, Florida, or Jamaica.
Where does the seawater come from?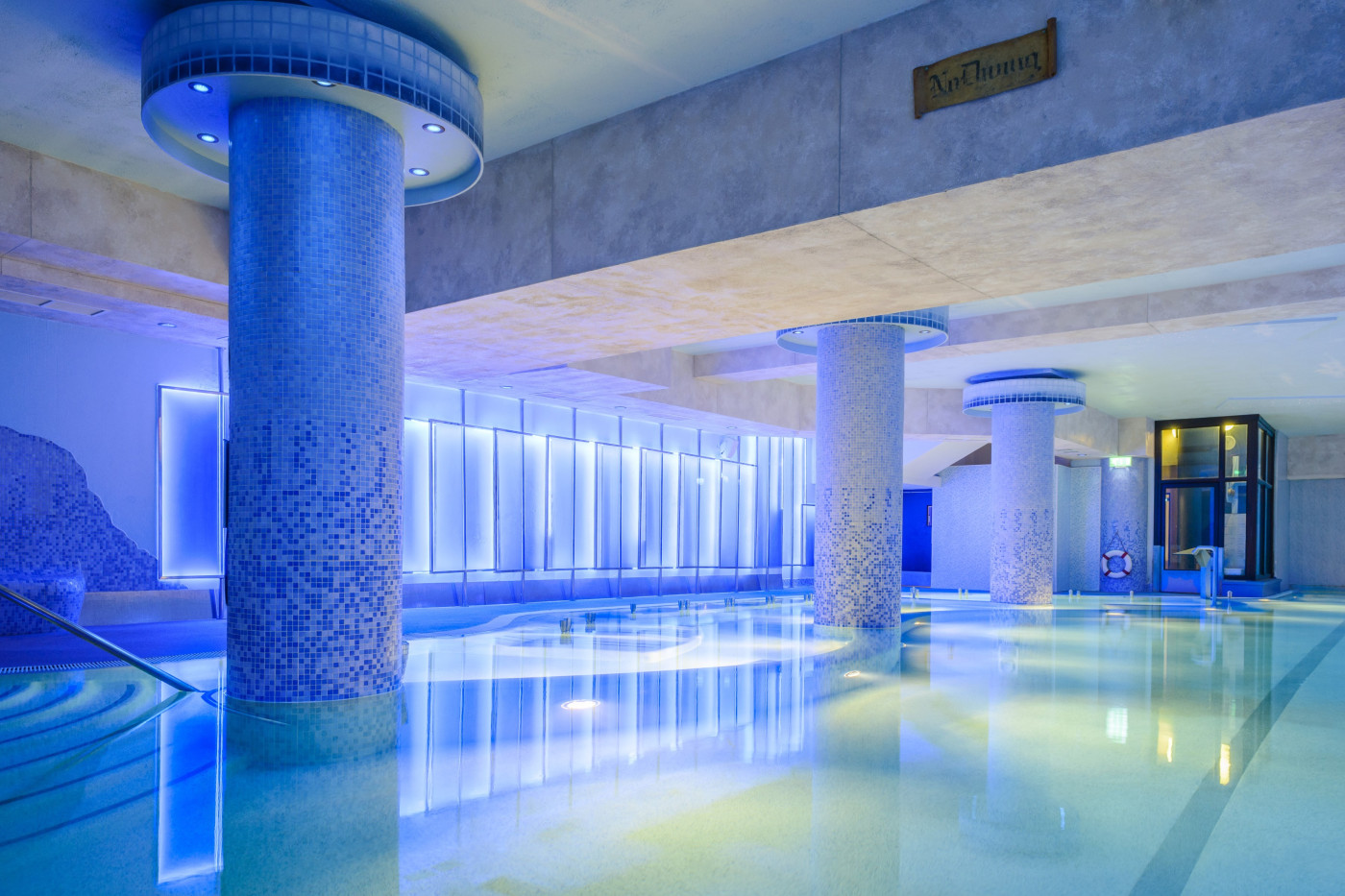 Time to treat yourself at our thalassotherapy swimming pool
The saltwater for the thalassotherapy pool at Sandymount comes directly from the sea into a natural spring buried deep under West Wood Club.
To clean the natural sea water, the first step is to pump it into huge balance tanks. Secondly, the water then goes through a large manganese filter. Next, we send the sea water through four filters. And then finally, the seawater is pumped into the swimming pool at Sandymount.
For maximum health benefits, the saltwater continuously circulates through the four swimming pool filters. Ready for you to feel like you're swimming in the warmest seas.
The swimming pool with no smell of chlorine
The thing you notice as you step down into Sandymount swimming pool is the lack of any chlorine smell. Why? Because you are swimming in saltwater from the sea. Instead of large amounts of chlorine, our Dublin 4 swimming pool uses a one-million-euro filtration system. A pool filtration system designed exclusively for 'thalassotherapy' saltwater pools.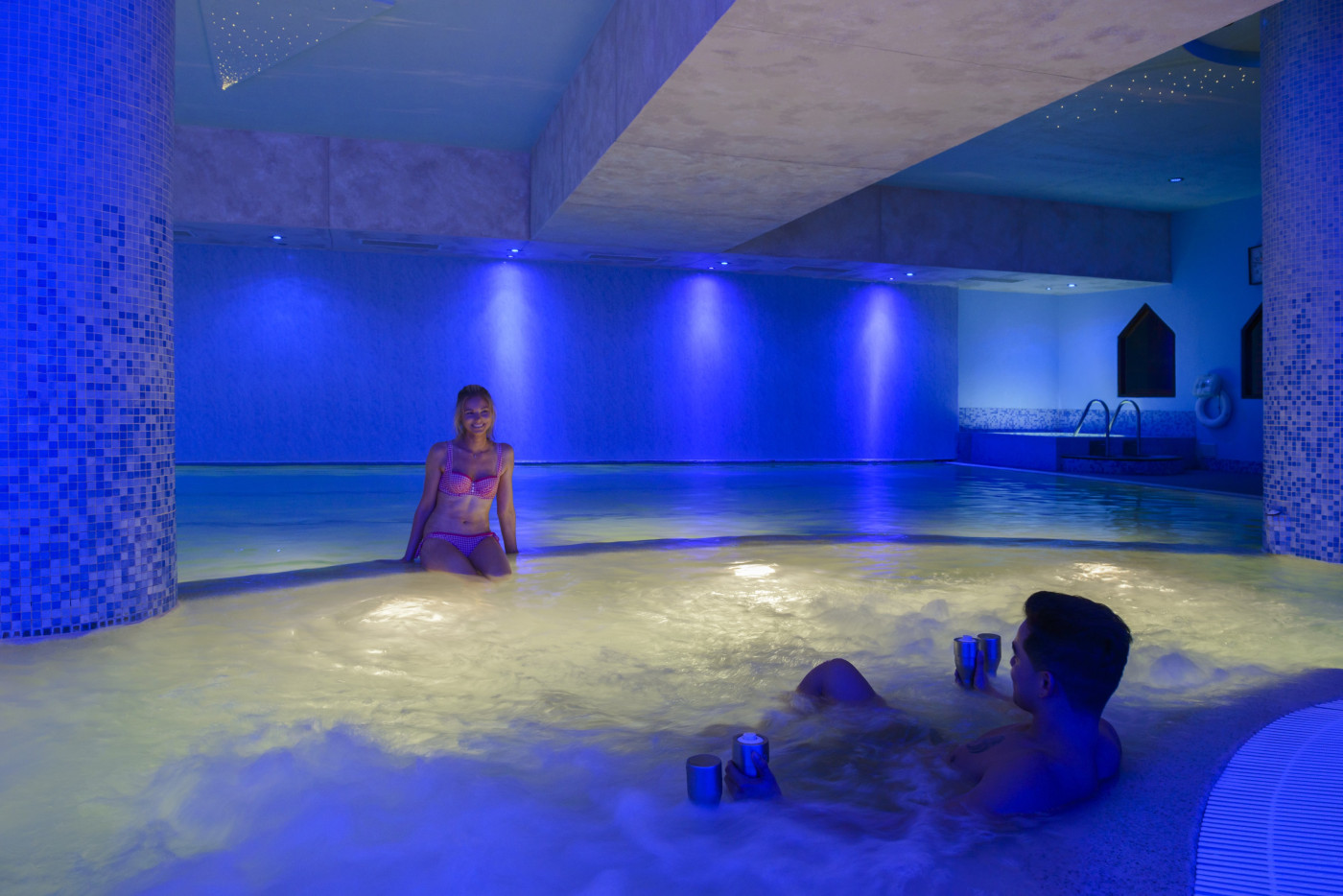 Relaxing at the thalassotherapy swimming pool at West Wood Club Sandymount
The warmest swimming pool in Dublin
Most swimming pools are 26 to 28 degrees. We keep the thalassotherapy swimming pool at Sandymount at 34 degrees. The extra heat allows the pores of your skin expand. This helps your body absorb the health preserving nutrients from the natural seawater.
We also keep the air temperature at our Sandymount swimming pool at a constant 36 degrees. That's 34 degrees in the water and 36 degrees outside. The perfect treat for your body. The only problem of course is you might never want to leave.
But if it does get too hot, don't worry. We have a poolside 'ice-room' waiting for you as you step out of the swimming pool.
Swimming pool perfect for non-swimmers
Our Dublin 4 swimming pool is 25 meters long. And only 1.2 meters deep. The shallow water makes it perfect for non-swimmers. Walk up and down the pool as long as you like. You're completely safe.
And of course, the walking in saltwater is excellent exercise for toning your hips and thighs.
Our Dublin 4 swimming pool offers another benefit for people who cannot swim, or people who are afraid of water. The salt in the seawater makes your body more buoyant. This makes it easier for you to float.
The saltwater swimming pool is also perfect for those who just want to relax and de-stress. The swimming pool is below ground level so nobody is looking in at you. The pool is completely private and peaceful. Just enter from the changing rooms, swim, lie back, relax, take it easy.
Enjoy much more than just a swimming pool
Your Dublin 4 Swimming Pool at Sandymount is much more than just a thalassotherapy swimming pool. The swimming pool is the centre of a unique spa experience.
Your saltwater swimming pool is surround by many other spa features.
Hot sauna

Relaxing steam room

Invigorating ice room

Cold plunge pool

Relaxation suite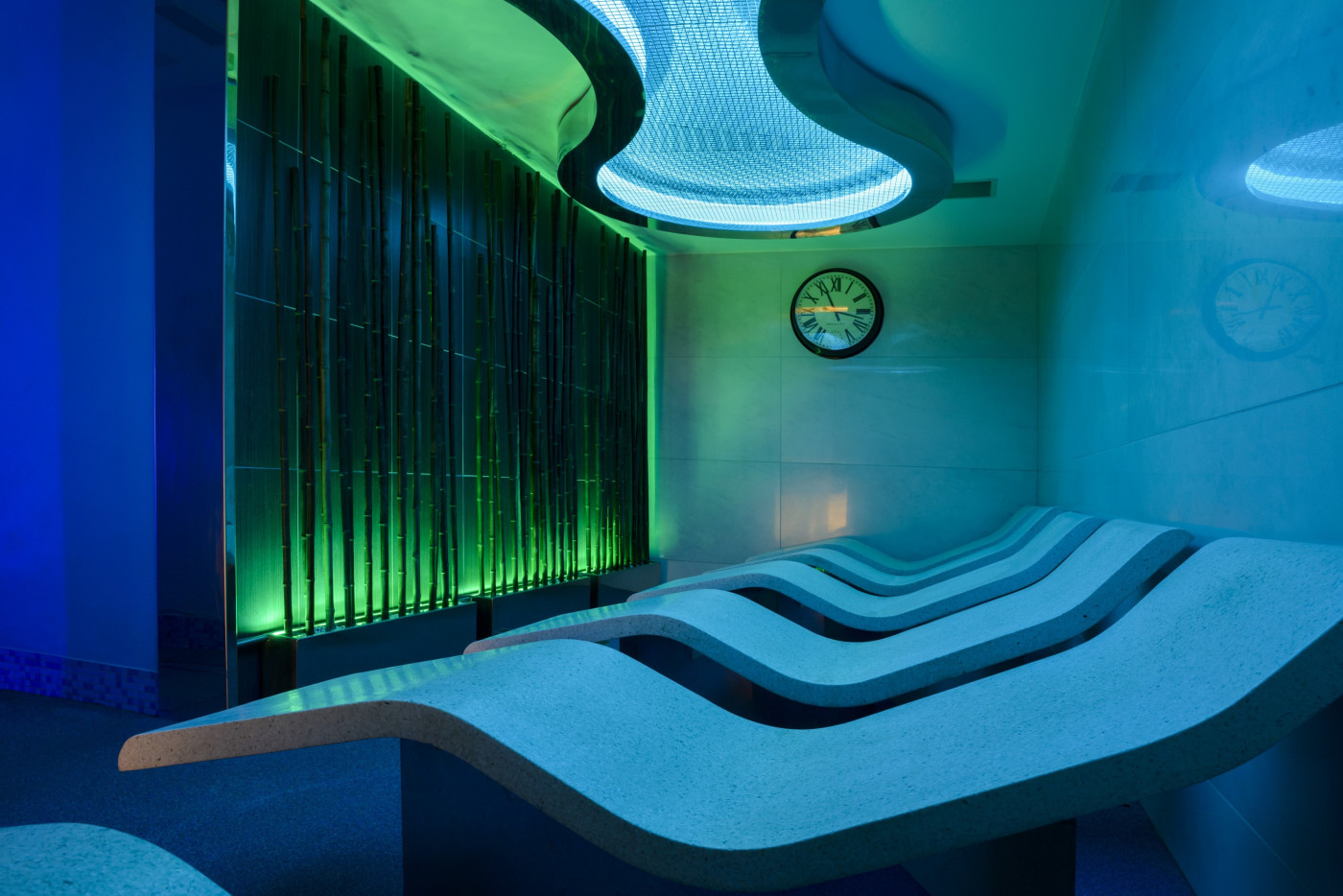 Poolside relaxation suite at our thalassotherapy Swimming Pool in Sandymount
You also have relaxing side jacuzzi with 15 hydrotherapy jets to massage every part of your body.
Hydrotherapy features
3 hydrotherapy beds

5 hydrotherapy seats

5 hydrotherapy standing units

2 hydrotherapy neck cannons
Just sit back in the warm saltwater and enjoy the health benefits of the hydrotherapy jets…
Relieve stress and anxiety

Reinvigorate your mind

Reduce muscle tension

Ease aches and pains

Rehabilitates injured muscles

Boost the immune system

Encourage detoxification

Increase blood circulation

Massage muscles

Experience deep relaxation

Leave refreshed and invigorated
Swimming pool designed for pure relaxation
Stepping down the steps into Sandymount swimming pool is like escaping into a haven of tranquillity and relaxation. After 20 minutes you come back up refreshed and invigorated.
Why not treat yourself to some amazing body and beauty treatments while visiting our Sandymount pool? You are also only steps away from our re:fresh spa and beauty salon.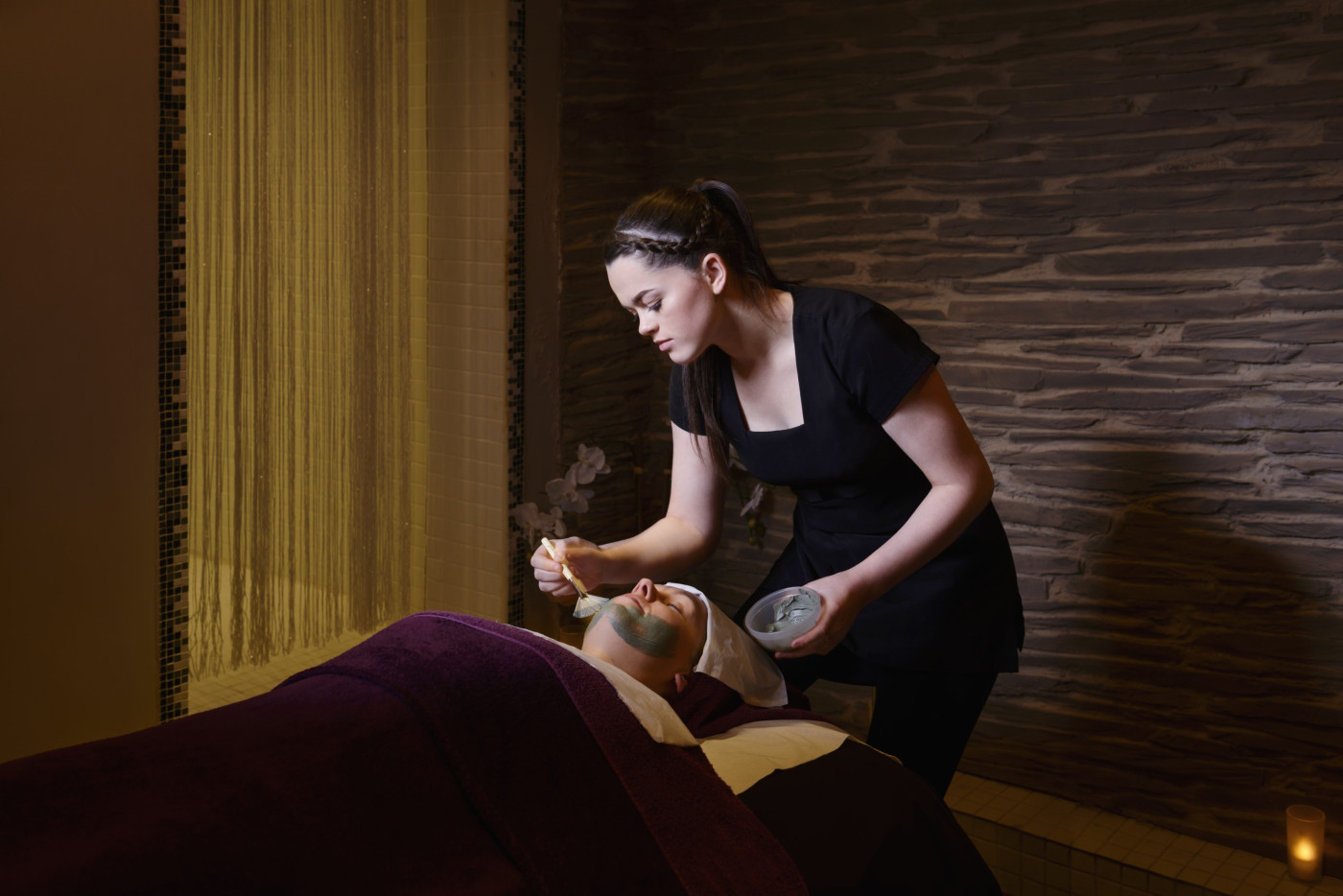 More than just a swimming pool. Clients enjoy luxury beauty treatments
Using the thalassotherapy pool at Sandymount
Access to the thalassotherapy swimming pool and spa at West Wood Club Sandymount is 100% free for members.
To find out more about becoming a member, contact us on 2695764.
Or register for a FREE 4 day trial membership
Your other Swimming Pools in Dublin.
Benefits of Sandymount Thalassotherapy swimming pool
"Thalassotherapy remains internationally renowned for its therapeutic and restorative powers in strengthening the body's immune system". The Irish Times
"The benefits of swimming in this hot water include pain relief for backaches, arthritis and rheumatism, and improved cardiac strength" The Irish times
"Studies of patients cohorts shows a lowering of pharmaceutical consumption, fewer hospitalisations of patients treated, and a decline in ailment recurrence compared with patients who had not followed such therapy" (Charlier and Chaineux, 2009)
"The World Health organisation considers thalassotherapy to be a traditional medicine" (Charlier and Chaineux, 2009)
"Thalassotheraputic medicine is included in the curricula of some colleges of medicine in Europe". (Charlier and Chaineux, 2009)
"In most European Union Countries thalassotherapy cures, prescribed by medical practitioners, are reimbursed expenses" (Charlier and Chaineux, 2009)