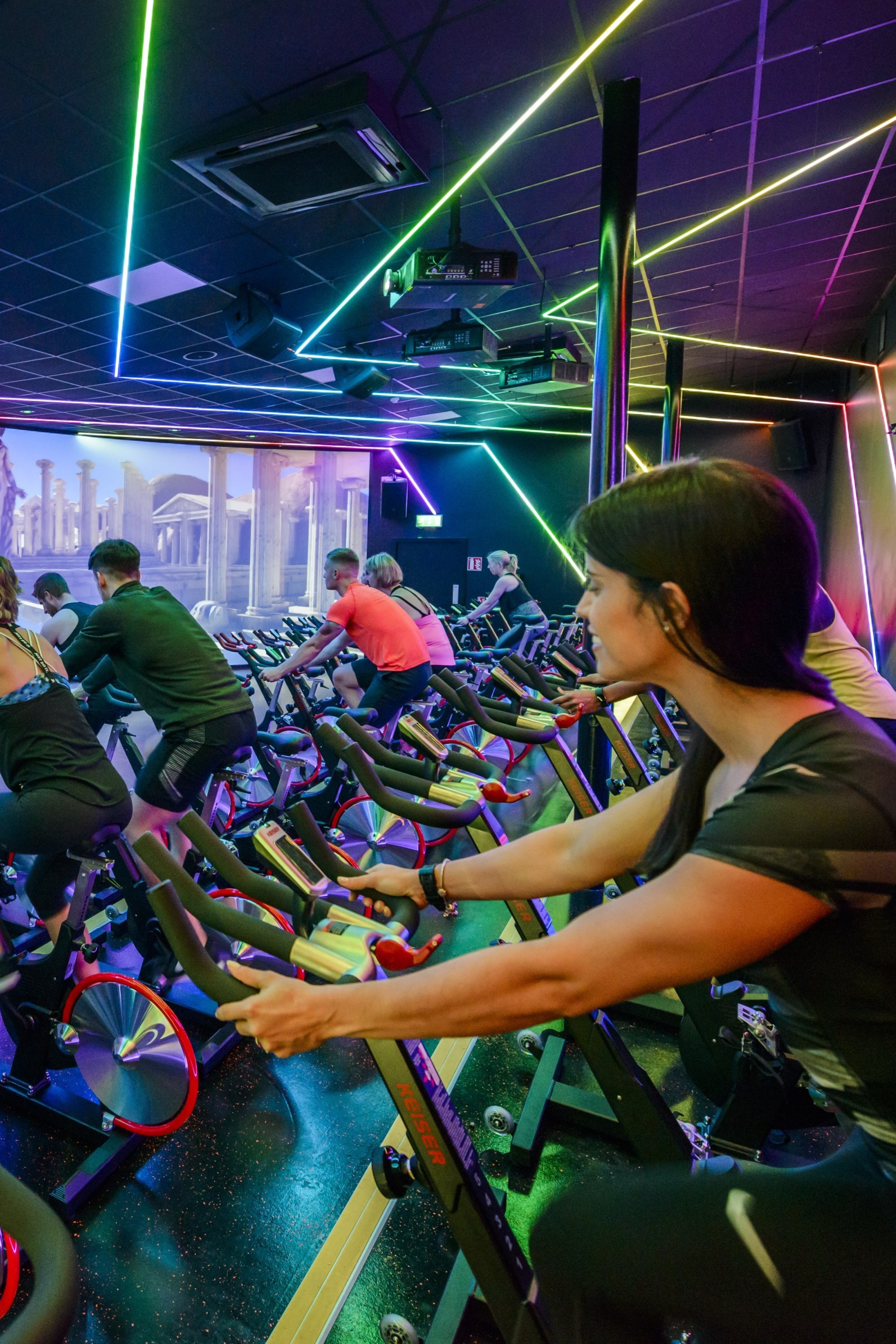 Immersive Group Cycling
The Trip cycling class is a 'similar' cycling class to Les Mills RPM™ and Spinning™ – but with a major twist! THE TRIP is a 40 minute group cycling class but it takes place in our purpose built IMMERSIVE fitness studio, in front of a huge wrap around IMAX style screen.
But The Trip is not just an exercise class. It's a totally immersive, mind-blowing, fitness and fat-burning workout EXPERIENCE!
THE TRIP combines all the excitement and visual stimulation from 'IMAX Style' cinema, live concert experiences, stadium sound amplification, and disney-style interactive gaming. Giving you a workout experience which totally engages both body and mind.
And it's all led by our international acclaimed group cycling instructors.
Take THE TRIP to another world
While you follow The TRIP™ instructor, a mind-escaping video is digitally projected onto the screen ahead of you which transports you into totally different dimensions.
Not only is it an INNOVATIVE, FUN AND EXCITING way to work out, but it also gives you a heightened sense of achievement through its use of realistic visual graphics.
The floor to ceiling 'IMAX STYLE' cinema screen wraps around you to deliver cinema quality images. You are immersed in new worlds where you race, climb, lean, and drop into corners making you feel the speed and rush of the road.
The animation on screen is also matched perfectly to the music and the choreography.
Climb the side of an impossibly steep virtual glacier.

Sprint across hot lava flows.

Ride through a space age city.

Chase alien spaceships in outer space

Twist and turn your way through spectacular underground caves
Working harder has never been this easy.
Great fun and MAXIMUM Fat Loss
Scientific studies have already shown the benefits of the immersive nature of The Trip™.
It's use of light, incredible visuals, and an inspiring upbeat soundtrack synced perfectly to the animation and choreography, distracts you from the fact that you are working out hard. This allows you to push yourself even further to achieve maximum fitness and body-transformation results.
THE TRIP™ creates a visual sense of purpose to your workout. By suspending belief, you stop thinking about the workout and push yourself further.
You burn calories faster

You lose fat quicker

You increase stamina

You get super-fit
All EASIER and FASTER than ever before