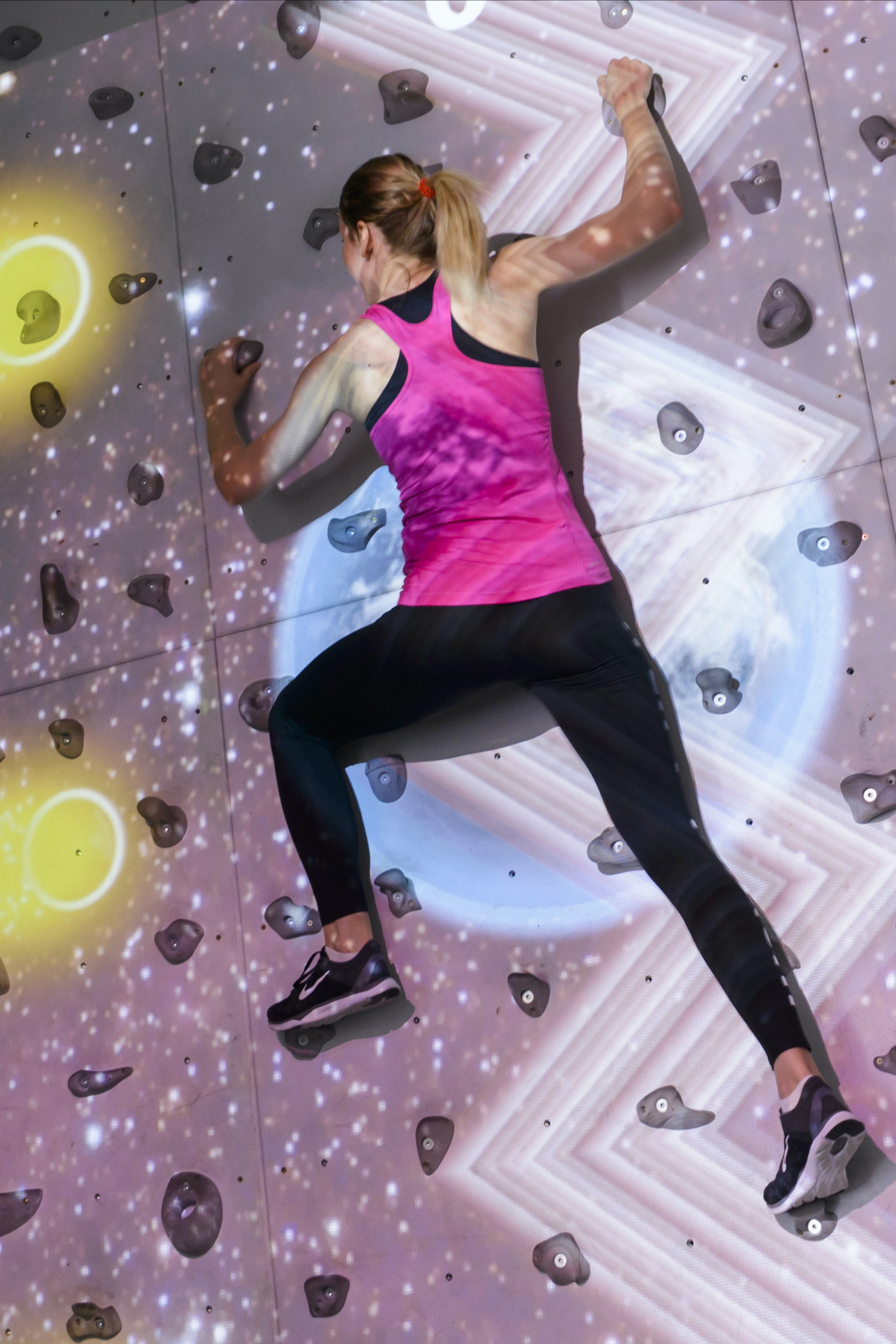 Rock Climbing Made FUN
In 2017, we introduced the first augmented climbing wall to Ireland – at West Wood Club, Dun Laoghaire.
Since then, because of demand, we have installed Augmented Climbing Wall ZONES to our clubs at Aston Quay and Westmanstown.
What is augmented climbing?
Firstly, augmented climbing is an interactive game platform for climbing walls. Secondly, augmented climbing is an intense, modern and interactive way to increase strength, build muscle, increase flexibility, and improve overall agility. And finally, augmented climbing is also a great way to work out with your friends!
But most importantly, Augmented climbing is the start of a revolution in fitness; using technology, gaming, and animation to make fitness and strength training FUN.
What happens on an augmented climbing session?
The patented technology, based on the programme you choose, sets out a climbing path for you to follow. Your job is to use your skill, fitness, strength, and agility to try and keep up with the course set by the computer.
Augmented climbing offers 4 different programs. The different programmes develop speed, strength, flexibility or mobility. From the different programmes, climbers can choose from a selection of climbing wall 'games'…just like any other video game.
Most climbers train on the wall for approximately 10 to 15 minutes on each session.
The good news is that unlike our other climbing walls, our augmented climbing walls are only 4 meters high which means you haven't got far to fall if things go wrong.
Climb against friends
The real fun starts when two players compete against each other. And members just love to compete with their friends using the Augment Climbing. Each climber starts on different sides of the wall and as they try to compete with each other as the 'game' gets faster, messier, and funnier as the game goes on. You're not only competing against your friend, you're also competing against the computer.
Climb against yourself
Each time you climb on the augmented climbing wall, the system records your performance and immediately emails it to when your finished.